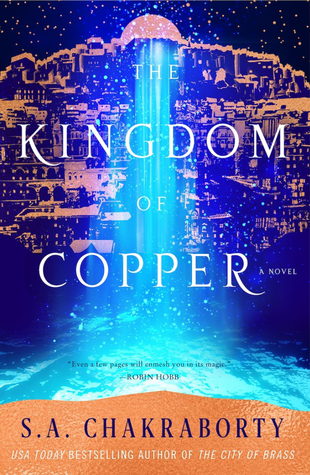 Rating: ⭐️⭐️⭐️⭐️⭐️
Synopsis:
Nahri's life changed forever the moment she accidentally summoned Dara, a formidable, mysterious djinn, during one of her schemes. Whisked from her home in Cairo, she was thrust into the dazzling royal court of Daevabad—and quickly discovered she would need all her grifter instincts to survive there.
Now, with Daevabad entrenched in the dark aftermath of a devastating battle, Nahri must forge a new path for herself. But even as she embraces her heritage and the power it holds, she knows she's been trapped in a gilded cage, watched by a king who rules from the throne that once belonged to her family—and one misstep will doom her tribe..
Meanwhile, Ali has been exiled for daring to defy his father. Hunted by assassins, adrift on the unforgiving copper sands of his ancestral land, he is forced to rely on the frightening abilities the marid—the unpredictable water spirits—have gifted him. But in doing so, he threatens to unearth a terrible secret his family has long kept buried.
And as a new century approaches and the djinn gather within Daevabad's towering brass walls for celebrations, a threat brews unseen in the desolate north. It's a force that would bring a storm of fire straight to the city's gates . . . and one that seeks the aid of a warrior trapped between worlds, torn between a violent duty he can never escape and a peace he fears he will never deserve.
Review
This will contain spoilers for The City of Brass
S. A. Chakraborty has done it again. Kingdom of Copper was an absolutely exceptional sequel to The City of Brass. It builds upon the already expansive world and tells a new, exciting story full of magic, political intrigue, drama, and twists. The imagery is once again vivid and vibrant. Chakraborty created a stunning sequel that I cannot recommend enough.
Kingdom of Copper picks up five years after the epilogue of The City of Brass. I was shocked that so much time had passed, but I actually ending up loving it. There is a prologue at the beginning which updates the reader on the events immediately post The City of Brass. The rest of the novel takes place five years later and over the course of almost a year.
Kingdom of Copper features three POVs – Nahri, Ali, and Dara. Dara has the least amount of POV chapters of the three. The story begins with Nahri in Daevabad, Ali in a small village in Am Geziri, and Dara with Manizheh. The three all eventually end up together in Daevabad. One thing I really liked about KOC was that Nahri and Dara were separated for the majority of the book. I loved seeing Nahri independent of Dara. She was already fierce and strong in COB but she has become so much more so in KOC. I loved watching her growth. I also think that Nahri (and I) romanticized Dara in COB. In KOC, Nahri and the reader get to see more of who Dara really is and how blindly faithful he is. He does have moments of questioning, but he never acts on it. I am so hopeful that Dara will grow and evolve in the next book and maybe even find peace.
One of the things I like so much about this series is that every character/tribe is problematic. It's not a simple good guy vs bad guy. They all believe that they are correct and that the problems of the world are due to other tribes. Every single tribe has committed terrible acts against others. It's hard to know who to root for because it is not simply black and white or good and evil. I really liked near the end (minor spoiler?) when Nahri thinks to herself, "Because no matter what this woman said, Nahri did not feel like they were on the same side. She had meant what she said to Muntadhir: she wasn't on the side of anyone who'd arranged for the deaths of so many innocents." It is definitely clear who to root for here.
I did not think that the world of Daevabad could possibly be more detailed and captivating, but damn was I wrong. Chakraborty is unbelievably talented and has such a gift for creating the most beautiful worlds. The world in Kingdom of Copper expands and becomes even more immersive. I loved that we got to see beyond just the city of Daevabad. We get to learn more about the world, its history, and the tribes. You can see how much time and thought went it to creating this extensive world. One of my favorite parts is that there is much more magic in KOC. There is the water affinity magic from Ali, Nahri's Nahid magic and connection with the palace, and Dara's new form. I found Nahri's magic especially fascinating. I loved that we get to see so much of it.
The ending of KOC was absolutely epic! I audibly gasped several times! I have so many questions and I am dying to know what will happen next. I can't believe we have to wait for another year for the next book!
Kingdom of Copper was beautifully captivating and entirely enchanting. I will say that it is very complex. As with The City of Brass, I took notes while reading KOC. It helped to keep all of the details straight. Shout out to Chakraborty for including a map, character list, glossary, and tribe list. It was definitely a slower read, but I liked that! I was able to truly savor the story and details. I cannot wait to see where the story goes next!
A few random points and thoughts to wrap this up . . .
I loved the hospital subplot – I was so cool to see all of the healing magic and Nahri working with a shafit physician!
The Marid are TERRIFYING!
Ali can be problematic at times, but damn he is adorable. For example, his attempt at conversation with Nahri . . .

"Er . . . are you reading anything interesting?"

Abu Sayf's quote:

"I suppose I never really thought of Daevabad as a Daeva city. Feels like the center of the world should belong to us all."

"I've had enough of men hurting me because they were upset." YAS NAHRI! YOU TELL HIM!!!
As a nurse, I really loved and related to Subha's quote about losing patients. . .

"The work is what matters. You fix what you can and keep yourself whole enough to move on to the next patient."