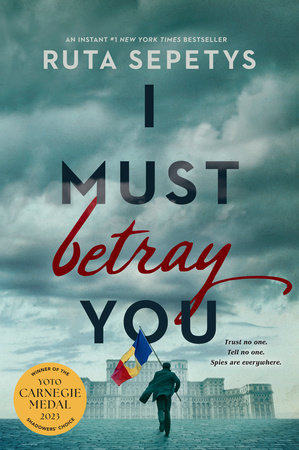 Rating: ⭐️ ⭐️ ⭐️ ⭐️ 
Synopsis:
Romania, 1989. Communist regimes are crumbling across Europe. Seventeen-year-old Cristian Florescu dreams of becoming a writer, but Romanians aren't free to dream; they are bound by rules and force.
Amidst the tyrannical dictatorship of Nicolae Ceaușescu in a country governed by isolation and fear, Cristian is blackmailed by the secret police to become an informer. He's left with only two choices: betray everyone and everything he loves—or use his position to creatively undermine the most notoriously evil dictator in Eastern Europe.
Cristian risks everything to unmask the truth behind the regime, give voice to fellow Romanians, and expose to the world what is happening in his country. He eagerly joins the revolution to fight for change when the time arrives. But what is the cost of freedom?
Review:
Huge thank you to Ruta Sepetys, Penguin Teen Influencers, Philomel Books and Penguin Young Readers for sharing this e-arc with me. The following review reflects my honest reading experience. 
I am a massive fan of Ruta Sepetys's books. Each of her stories have made such an impact on me and continue to be favorites of mine. My favorite thing about Ruta's books is that she choosing topics that are lesser known or have been forgotten. Not only do I get to read an incredible story, I also get to learn about pieces of history that I had no knowledge of. Once again she has accomplished this by sharing the moving and tragic story of Romania in its communist era. In the author's note, Sepetys states: 
"History is the gateway to our collective story and the story of humanity. Historical fiction allows us to explore underrepresented stories and illuminate countries on the map." 
This is exactly why I love reading historical fiction, but especially love Ruta's books. She does a phenomenal job of telling beautiful stories while shining the light onto these underrepresented peoples and countries. The amount of time spent and research done is simply amazing. Ruta devotes her life to telling these underrepresented stories! She really is a master storyteller. I Must Betray You is a powerful read that I recommend everyone read. 
I always have complex feelings about Ruta's books. It feels odd to say that I enjoyed it because there is so much tragedy and heartbreak. But I really did enjoy I Must Betray You despite the difficult to read parts. Ruta is able to seamlessly tell these heartbreaking stories with respect, love, and poise. She creates characters that I always come to love and bond with. I was fully immersed into 1989 Romania. I am so inspired by the citizens, especially the young people, who stood up to oppression. 
I highly encourage everyone to read the author's note at the end of the book. Reading Ruta's authors notes are actually one of my favorite parts of reading her books. You can just feel the amount of love and dedication that she puts into telling these stories. I'll end my review with another quote from her author's note,
"Please remember that when adversity is drawn out of the shadows and recognized, we ensure that human beings living under oppression-past and present–know they are not forgotten.

Together, we can shine a light in dark corners of the past.

Together, we can give history a voice."
I Must Betray You is already released. Check it out today!