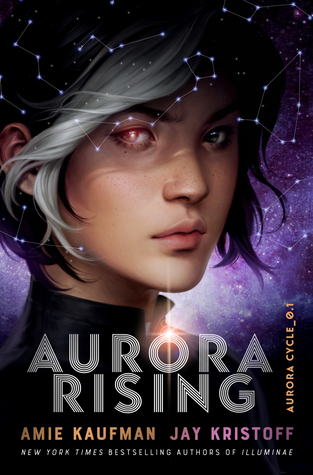 Rating: ⭐️⭐️⭐️⭐️⭐️
Synopsis:
The year is 2380, and the graduating cadets of Aurora Academy are being assigned their first missions. Star pupil Tyler Jones is ready to recruit the squad of his dreams, but his own boneheaded heroism sees him stuck with the dregs nobody else in the Academy would touch…
A cocky diplomat with a black belt in sarcasm
A sociopath scientist with a fondness for shooting her bunkmates
A smart-ass techwiz with the galaxy's biggest chip on his shoulder
An alien warrior with anger management issues
A tomboy pilot who's totally not into him, in case you were wondering
And Ty's squad isn't even his biggest problem—that'd be Aurora Jie-Lin O'Malley, the girl he's just rescued from interdimensional space. Trapped in cryo-sleep for two centuries, Auri is a girl out of time and out of her depth. But she could be the catalyst that starts a war millions of years in the making, and Tyler's squad of losers, discipline-cases and misfits might just be the last hope for the entire galaxy.
They're not the heroes we deserve. They're just the ones we could find. NOBODY PANIC.
Review:
Our favorite sci-fi writing duo is back!!! I don't know how they do it, but Amie and Jay have done it again!!! I was a little nervous because I didn't know how Amie and Jay could possibly follow The Illuminae Files, but I did not need to worry at all! Aurora Rising is an epic, fast-paced, action-packed adventure!!
Aurora Rising follows Squad 312 from the Aurora Legion. Tyler, aka the Golden Boy, is the Aurora Academy's top student. He's meant to be the Alpha of the best squad. But that all changes when he decides to go on a solo trip into the Fold to clear his mind before the squad draft. While in the Fold, Tyler comes across an abandoned ship and discovers a girl in cryo-sleep. He successfully rescues her, but misses the draft. Tyler is now stuck leading a squad with his sister, best friend, and the rejects from the draft. Squad 312 leaves on their first mission and chaos ensues.
Aurora Rising was NON-STOP! From the very first page, the story grabbed me and did not let go! Squad 312 is a magnet for danger! Everywhere they go they get into trouble! The plot is fun and full of action and epic battle scenes. The story flows and is well paced. Amie and Jay built the world of Aurora Rising perfectly. There is never information overload or dumping. I especially loved the Illuminae Files-esc pages. It was such a cool way to provide the reader insight and more information into this world.
I absolutely LOVED this cast of characters. Jay and Amie create the most original, complex, and hilarious characters. Seven point of views could be a lot, but it was not overwhelming at all. I enjoyed every single point of view chapter. My ONLY complaint would be to have more Zila. However, I have a feeling that more is coming in the next books.
If I had to pick a favorite character it would probably be Finian with Scarlett as a very close second. I just love Fin's sarcasm and little quips. And Scarlett is just so bad ass! She is fierce!!
Aurora Rising was absolutely incredible. Amie and Jay are GENIUSES! I seriously don't know how they do it. It is going to be a very long wait for the next book!!