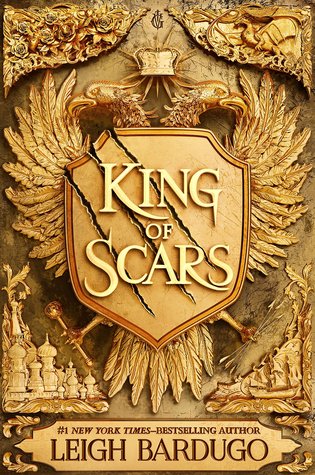 Rating: ⭐️⭐️⭐️
Synopsis:
Nikolai Lantsov has always had a gift for the impossible. No one knows what he endured in his country's bloody civil war―and he intends to keep it that way. Now, as enemies gather at his weakened borders, the young king must find a way to refill Ravka's coffers, forge new alliances, and stop a rising threat to the once-great Grisha Army.
Yet with every day a dark magic within him grows stronger, threatening to destroy all he has built. With the help of a young monk and a legendary Grisha Squaller, Nikolai will journey to the places in Ravka where the deepest magic survives to vanquish the terrible legacy inside him. He will risk everything to save his country and himself. But some secrets aren't meant to stay buried―and some wounds aren't meant to heal.
Review:
Welcome back to the Grishaverse! I consider the original Shadow and Bone trilogy to be one of my gateway to YA fantasy series. I really liked the trilogy and it led to me to so many more YA fantasy authors. Then Leigh published Six of Crows and Crooked Kingdom and the Grishaverse got even better!! I absolutely adored this duology. So I was thrilled to learn that Leigh Bardugo was publishing another duology in the Grishaverse, but this time it would focus on Nikolai. I was ecstatic because Nikolai was one of my favorite parts of the original trilogy.
It was a long wait, but I finally got my hands on King of Scars and I dove right in. I'm sorry to say that I have mixed feelings about King of Scars.
---
I'll start with what I liked . . .
First, and foremost, being back in the Grishaverse!! Bardugo's world and its magic are so much fun. I love all the different orders of Grisha. I still don't know which order I'd choose. I think it would be between Squallors and Healers. King of Scars expands on Grisha magic and lore in a very cool and interesting way. I am keeping this review spoiler free so I won't tell you how.
NIKOLAI!!! Man I missed him and his ridiculous charm. I still love all of his one liners. There is a ton of growth and character development in Nikolai that occurred after the end of the war and in King of Scars. Nikolai is struggling with the demon inside of him and learning to live with the parts of himself that he does not like. Nikolai was so much more real in this story that in the past. I liked seeing that he isn't always the charismatic, light-hearted man he portrays. It was great to see him in this new light. Although I still love charming Nikolai.
Zoya was the biggest surprise for me in King of Scars. I did not expect to like her point of view chapters so much, but I actually loved them. I especially loved getting to learn about her history. She is the perfect opposite to Nikolai's easy-going nature. She also experiences huge amounts of growth throughout the story. I did not expect her story arc and I am looking forward to see where Bardugo takes it next.
The callbacks to other Grishaverse books, mostly Six of Crows. . .
"She wished she had Inej's gift for spywork or Kaz's gift for scheming, but she only seemed to have Jesper's gift for bad decisions."
"No mourners."
---
Now, for what I didn't like or thought was just meh . . .
The pacing. The first chapter of King of Scars pulled me in immediately and I was so excited about the story! But then the story dragged. It took until about half to three quarters of the way through to get exciting. It took 150 pages to get to the actual quest.
The three point of views: Nikolai, Zoya, and Nina (there is a fourth minor POV). Don't get me wrong, I loved all three POVs. It just didn't work as one book. To me, King of Scars was two different books. One was Nikolai and Zoya's story and the other was Nina's. Nina's story felt completely separated from Nikolai and Zoya. I liked her story and thought it was a great arc for her, but it took me out of Nikolai and Zoya's. I feel like Nina's chapters should have been a separate novella that was released between the two Nikolai duology books.
I wanted more. I felt like King of Scars was missing something. I saw the twist coming very early on. There were some elements that to the twist that I didn't expect, but it didn't make me gasp. I wanted to be shocked, but instead I was mildly surprised. Also there were scenes with Nikolai and Zoya training that felt lacking. I wanted more! We only get to see a quick look at each of their training. It would have been cool to explore this more.
---
Overall, I'm a bit disappointed by King of Scars. There were parts I liked and parts I didn't. I'm a mixed bag for this one. I'll read the next book because I'd love to know what happens and how Bardugo wraps it up. Part of me hopes that after the next book she closes the door on these characters. I'd love to learn more about the Grishaverse but with new characters and stories. . . like with Six of Crows.
One last point . . . I loved the subtle Beauty and the Beast reference! Did you notice it? Comment and let me know!