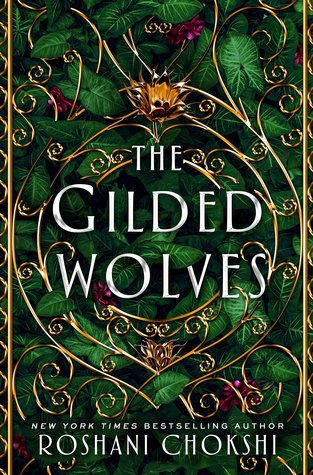 Rating:⭐️⭐️
Synopsis:
From New York Times bestselling author Roshani Chokshi comes The Gilded Wolves, a novel set in Paris during a time of extraordinary change–one that is full of mystery, decadence, and dangerous desires…

No one believes in them. But soon no one will forget them.
It's 1889. The city is on the cusp of industry and power, and the Exposition Universelle has breathed new life into the streets and dredged up ancient secrets. Here, no one keeps tabs on dark truths better than treasure-hunter and wealthy hotelier Séverin Montagnet-Alarie. When the elite, ever-powerful Order of Babel coerces him to help them on a mission, Séverin is offered a treasure that he never imagined: his true inheritance.
To hunt down the ancient artifact the Order seeks, Séverin calls upon a band of unlikely experts: An engineer with a debt to pay. A historian banished from his home. A dancer with a sinister past. And a brother in arms if not blood.
Together, they will join Séverin as he explores the dark, glittering heart of Paris. What they find might change the course of history–but only if they can stay alive.
Review:
I received The Gilded Wolves as part of Owl Crate's Magical Artifacts box. I had heard about The Gilded Wolves prior to receiving this box and the premise caught my attention immediately. A heist, magic, Paris, and a kickass team! Can it be any cooler!? Unfortunately, I don't have really any strong feelings about The Gilded Wolves. It wasn't good or bad. It was just ok.
One major problem I had was the world building. The beginning of the book is chock full of information. It was too much too quickly. Total information dumping. I felt thrown into this confusing and complex world and magic system. It was very hard for me to picture the world. Also, It was a little weird because I was getting futuristic vibes and didn't realize that it was actually set in Paris 1889. It didn't feel like old-timey Paris. I actually kept forgetting that we were in Paris. I did however really like the little history sections at the intros of each part that explain a little more about Forging magic. I thought that this was a neat touch.
My favorite part of The Gilded Wolves was all the puzzles and riddles that the team had to solve. I absolutely loved the chapter when Zofia and Enrique work together to solve the Horus Eye riddle or later when they must figure out the code to save Laila! It was all so exciting and fascinating! All of the clues and puzzles actually kind of reminded me of the movie National Treasure. Even though I can't stand Nicholas Cage I still love that movie because of the treasure hunt, clues, and puzzles. I kept thinking about this while reading The Gilded Wolves. 
Going into The Gilded Wolves I was prepared for similarities to Leigh Bardugo's Six of Crows. I love heist stories and books with a diverse cast of characters so I was looking forward to this book. Unfortunately, The Gilded Wolves was a very watered down Six of Crows. The magic of SOC just wasn't there. The characters are clearly similar to the SOC gang, but without the magic that made them so compelling. I never felt very connected to Séverin, Laila, Enrique, Zofia, Tristan, or Hypnos. I wanted more history on each character and their relationships with each other. I had no attachment to any of them. I was reading other reviews on GoodReads and one by Megan said, "This reads so much like a second book. There were too many prior events and too many previously established relationships that I felt like I was missing key elements needed to read this book." I couldn't put my finger on what was wrong with The Gilded Wolves until I read this review. Megan is totally right. I linked her review at the beginning of the quote so go check it out!
One random question . . . what was the significance of the gilded wolves? They wear gilded wolf masks, but am I missing the importance?
In writing this review I realized that I should probably lower my rating. I initially started out as 3 stars, but I am dropping it to 2. The Gilded Wolves is not a bad book. There were some really cool aspects and I loved the riddles. It was just missing something.
The Gilded Wolves ended on a slight cliffhanger, but I'm not dying to know what happens next. I actually think it works as a stand-alone.