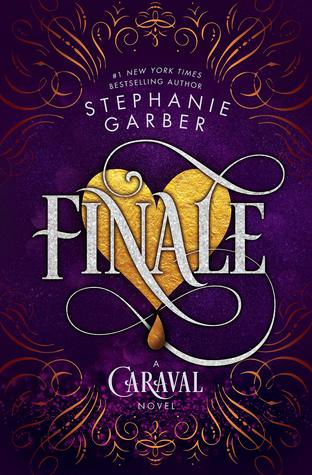 Rating: ⭐️⭐️⭐️💫
Synopsis:
A love worth fighting for. A dream worth dying for. An ending worth waiting for.
It's been two months since the Fates were freed from a deck of cards, two months since Legend claimed the throne for his own, and two months since Tella discovered the boy she fell in love with doesn't really exist.
With lives, empires, and hearts hanging in the balance, Tella must decide if she's going to trust Legend or a former enemy. After uncovering a secret that upends her life, Scarlett will need to do the impossible. And Legend has a choice to make that will forever change and define him.
Caraval is over, but perhaps the greatest game of all has begun. There are no spectators this time: only those who will win, and those who will lose everything.
Welcome, welcome to Finale. All games must come to an end. . .
Review:
Contains spoilers for Caraval and Legendary
Welcome, welcome back to the world of Caraval! I absolutely adore Stephanie Garber's writing and the magical world she has created in Caraval and Legendary.
After the ending of Legendary, I didn't know what to expect. I knew that Finale would be different because the actual Caraval games are over and that the Fates would come into play, but beyond that I had no ideas. I definitely enjoyed the story of Finale, but it didn't capture my heart and imagination as much as Caraval and Legendary did.
The story of Finale follows Scarlett, Julian, Tella, and Legend as they deal with the repercussions of the Fates being freed. It follows the different love that the characters share for one another (Tella and Scarlett, Tella and Legend, Scarlett, and Julian, Legend and Julian). This sounds ridiculous, but I just love all the love!! And where can I find my own Julian!? SWOON!
The part of Finale that fell flat for me was the Fates. After the Fates were released from the Deck of Destiny at the end of Legendary, I was expecting them to be the focus of Finale. This was only slightly the case. The Fates were in the story, but minimally and sporadically. I was disappointed by this because the Fates are such cool villains and characters! I wanted more interaction, epic fight scenes, and more magic! I wanted more fun adventure like we experienced in Caraval and Legendary. We only get to see little moments of the Fate's terrifying powers. It just wasn't what I expected. Finale was primarily a love story with a couple moments with the Fates. And that's ok. It just wasn't what I was hoping for.
That all being said . . .
Stephanie's writing is as magical as ever. I was only eleven pages in and I had already written down three quotes. Stephanie is a master at using beautiful quotes to create exquisite imagery and a stunning atmosphere.
"Caraval might have been over, but here Tella was, inside of a dream with Legend, floating over waters of stardust and midnight while fireworks continued to fall from the sky as if the heavens wanted to crown him."
One of my favorite images that Stephanie writes is the clothing!! I don't know how she comes up with all the fantastical dresses! I love watching Scarlett's magic dress change, or Tella wear the most extravagant gowns. The clothing is more than just outfits . . . It is part of the characters and their personalities.
Overall, I liked Finale. It was a love story with gorgeous imagery. I still adore Stephanie's world and magic. I will definitely miss being in the magical world of Caraval.