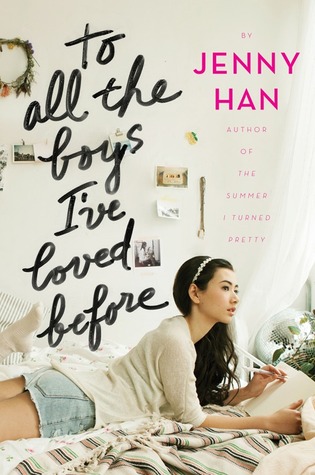 RATING: ⭐️⭐️⭐️💫 (AKA 3.5 stars)
SYNOPSIS:
What if all the crushes you ever had found out how you felt about them…all at once?
Sixteen-year-old Lara Jean Song keeps her love letters in a hatbox her mother gave her. They aren't love letters that anyone else wrote for her; these are ones she's written. One for every boy she's ever loved—five in all. When she writes, she pours out her heart and soul and says all the things she would never say in real life, because her letters are for her eyes only. Until the day her secret letters are mailed, and suddenly, Lara Jean's love life goes from imaginary to out of control.
REVIEW (Spoiler Free):
Like a lot of people I found my way to To All The Boys I've Loved Before because of the Netflix movie. I had heard about this book for a while, but it wasn't high on my TBR. I like contemporary, but I don't like to read it all the time like I do with fantasy. I absolutely LOVED the TATBILB movie and I am now obsessed with it. Like most who've watched it, I am head over heels in love with Peter Kavinsky and the actor that plays him (Noah Centineo). I knew after finishing the movie that I had to read the series. I almost never do this. I am a firm believer in reading the book first because the book is (almost) always better (The Notebook is the exception to that rule). I will say that I loved the TATBILB movie so much and the book was good, but wasn't as great as the movie. This most likely has to do with Noah Centineo and Lana Condor being exceptional actors. Despite loving the movie more, I still adored the book! Throughout the entire book, I could picture movie Peter and it made my heart so happy. There were some small differences between the book and movie, but nothing major.
As for the actual book, I don't have too much to say other than I really enjoyed it. It was a light, quick, and easy read which was just what I needed. The story itself is adorable and I love the concept. It's so dang cute. I'm a sucker for these romantic contemporary stories.
Some random thoughts. . .
Book Margot is a huge bitch and I was not a fan.
There's a hot tub scene 😍in the book too.
I think Peter K. is sweeter in the movie, but he was still adorable in the book.
I like that the movie added more bonding time between Lara Jean and her Dad.
Josh plays a bigger role in the book than he did in the movie. I actually liked that he was more present in the book. This is because I felt like I actually got to see why he was so important to Lara Jean and her family.